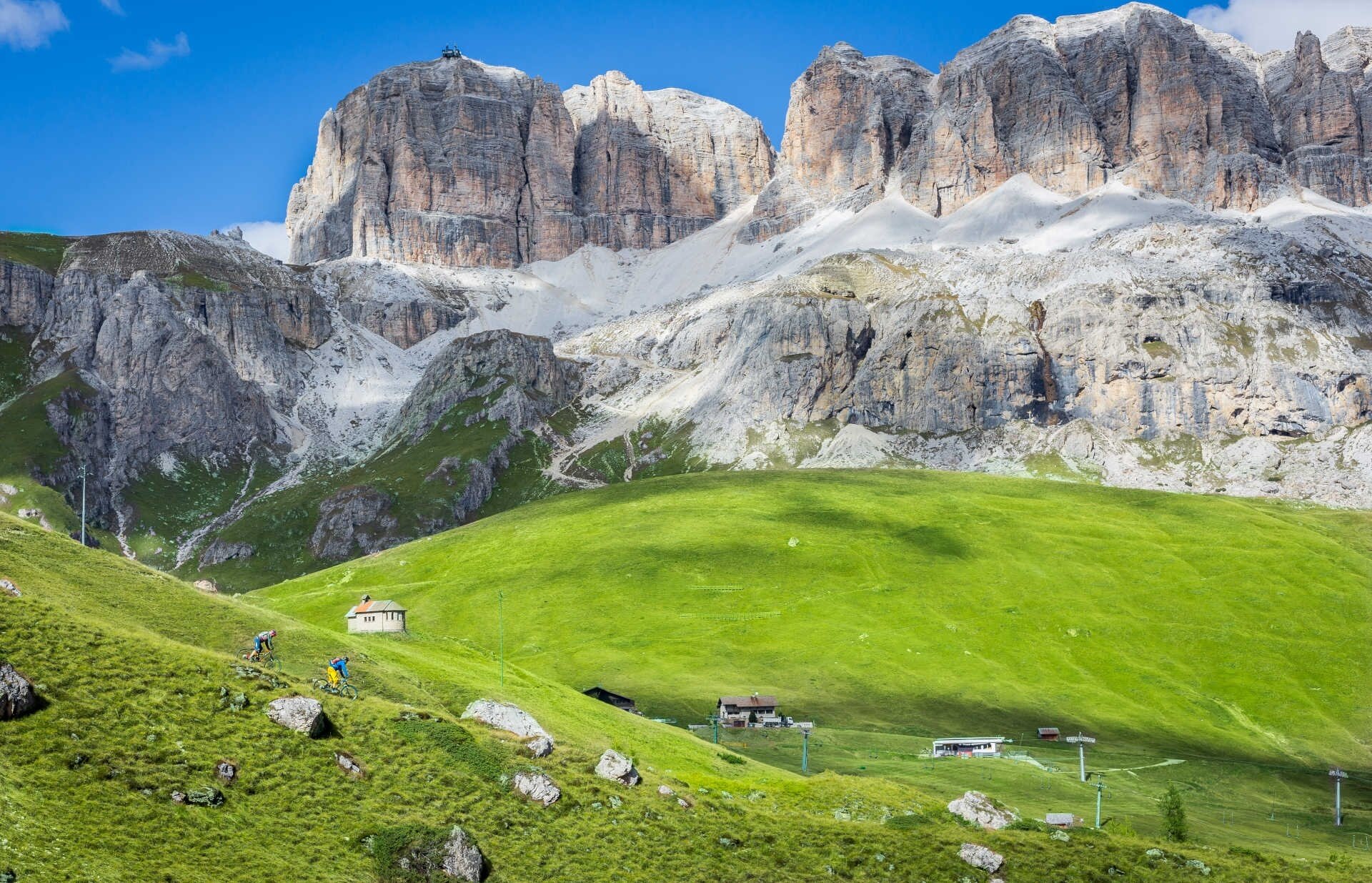 This is a tour for gravity professionals, since in a single day you will tackle no less than 11 trails in sequence within the Fassa Bike Park (Canazei-Campitello), interspersed with a few stops at a refuge or 6 ascents by cable car, gondola and chairlift.

Taking the lift from Alba ...
di Canazei, you reach "Col dei Rossi" ("Belvedere"), where you pedal for about 1 km on a mixed trail before reaching the "
Lezuo
" attack, a flow-style route. Continue on the "
All Fever
", a flow-style line on good grip terrain that alternates between parabolics and jumps and high-speed sections. On arrival at "Pont de Vauz", we return by cabin lift to Pordoi Pass and then set off down the "
Infinity
" trail in the direction of "Pian de Frataces" ("Lupo Bianco"), amidst technical passages and natural sections full of roots. Just below the valley station of the "Kristiania" chairlift at "Belvedere," take the easy "
Rabbe Trail
" variant and then return to the "Infinity". When you reach "Pian de Frataces" you move with two lifts to the opposite side ("Col Rodella"), at the foot of Sassolungo. A 10-minute stop for the view! Follow the "
Icarus
", "
Rode Line
" and "Joel" trails back to the valley station of the "Pradel" cabin lift. You quickly regain altitude with the cabin lift back to the "Belvedere". Steady nerves to challenge the "
Zacan
", a line built entirely with a beautiful sequence of drops, wallrides, inclined planes, banks and wooden table tops. You cross the "Belvedere" meadows along the "
Double-U
" trail that runs fast to "Pecol" (intermediate lift station). Take the cable car back up to "Col dei Rossi" and then tackle the long descent to the centre of Canazei, first covering the upper part of the "Double-U", then the Infinity with the "
Animal House
" variant. Short transfer back to the starting point (if parked in Alba, follow the signs for cycling path). 
Author's advice:
You can easily reach Fassa Bike Park by lift from Canazei, Campitello or Alba.
The access is included in the bike pass or in the Dolomiti Supersummer ticket, which allows access to a wider resort. Inside the park you will find trails of varying difficulty. If it's your first time here, we recommend turning to a FassaBike MTB School guide.
Read all