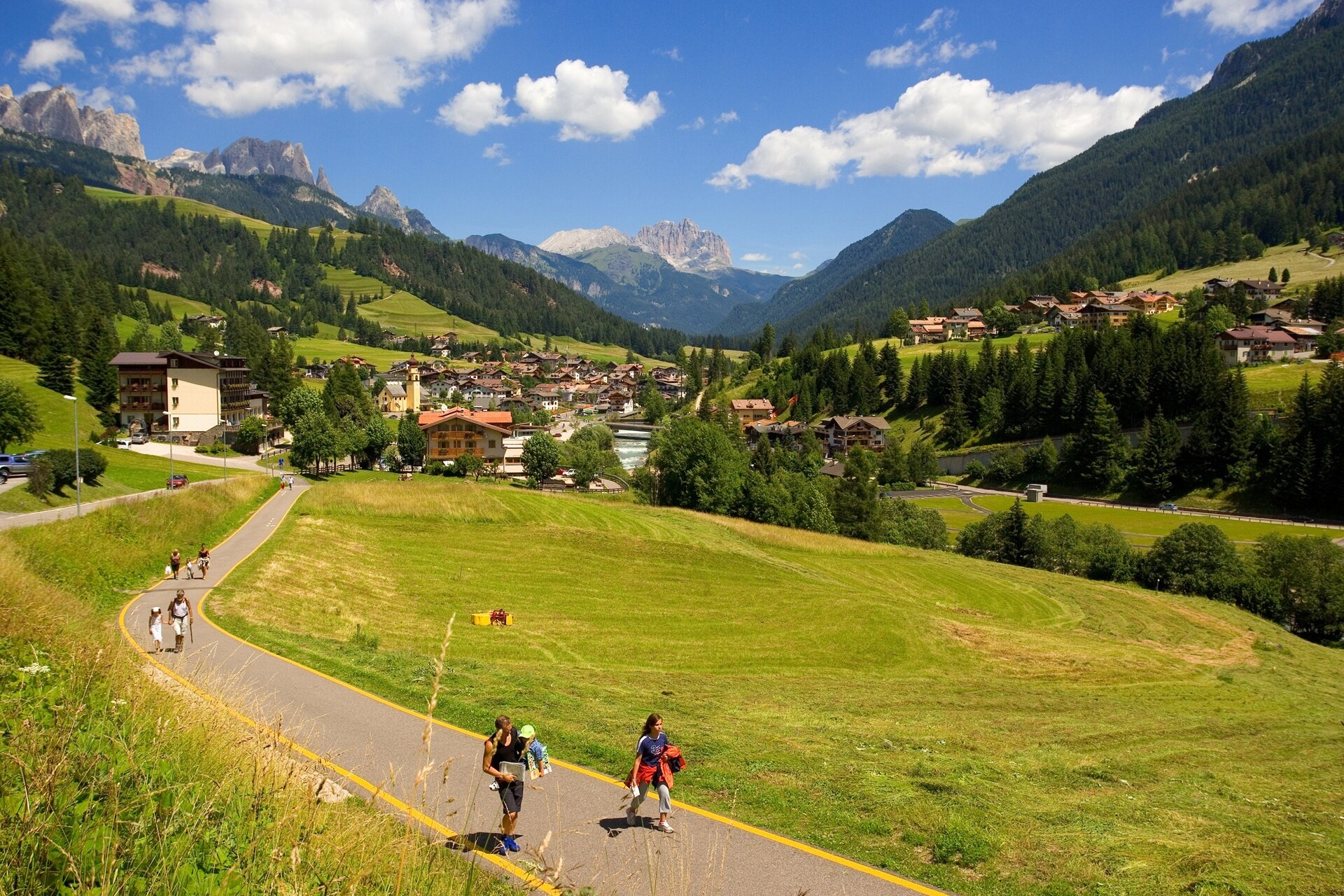 Walks

From Canazei, near the sporting centre and the playground, take the forest dirt road "Cercenà". Walk along the easy and shady track towards the "Soreghès" plain and towards the Col Rodella cable car station in Campitello di Fassa. Go on skirting the stream "Avisio". Flat ...
tracts alternate with short ascents, until you reach the villages of Fontanazzo, Campestrin and Mazzin. The descents to Pera di Fassa starts here, with easy up and downs to "Fraine". Then, leaving the votive chapel on your left, cross the wooden bridge on your right and follow the paved road to the bus stop in "Vac" (Piaza de Fascia). Follow the state road, then pass the roundabout in the town centre of Pozza and, opposite Hotel Monzoni, come back into the cycling lane. Bike across from Camping Rosengarten and continue to the bridge, cross it and descend towards the lower Val di Fassa. Once again the track runs along the stream "Avisio", among fields and woods, but it gives also space to magnificent views of the peaks of Latemar and Catinaccio. Pass carefully along the municipal road that serves the industrial area of Soraga: you will reach the playground and the town centre in few minutes. Take the underpass to cross the street safely and you will come to the uphill stretch that leads to "Palua". Looking back, your gaze falls upon Val di Fassa in all its beauty, framed by the high rocky "crode" (falls) of Rosengarten (Catinaccio), Sassolungo, Pordoi and Monzoni. Continue the descent to Moena. The cycle path finishes near the Minigolf Fantolin and the "Centro di Addestramento Alpino" (Alpine Training Centre). It is necessary to cross the town (along the municipal street or "Prato di Sorte") to reach the Moena plain; this is the departure, in winter, of the legendary Marcialonga. Here, regain the cycle pedestrian path that goes on down to Predazzo and Val di Fiemme.
Author's advice:
Walking poles, suitable for strollers, suitable for families with children, walkable for toddler-carrier backpack.
There are fountains, picnic areas and playgrounds for children along the whole walk.
Attention:the road is both cycling and pedestrian. Transit allowed both to bicycles/mountain bikes and pedestrians. It is recommended to keep the right-hand. All dogs must be kept on a leash.
Read all