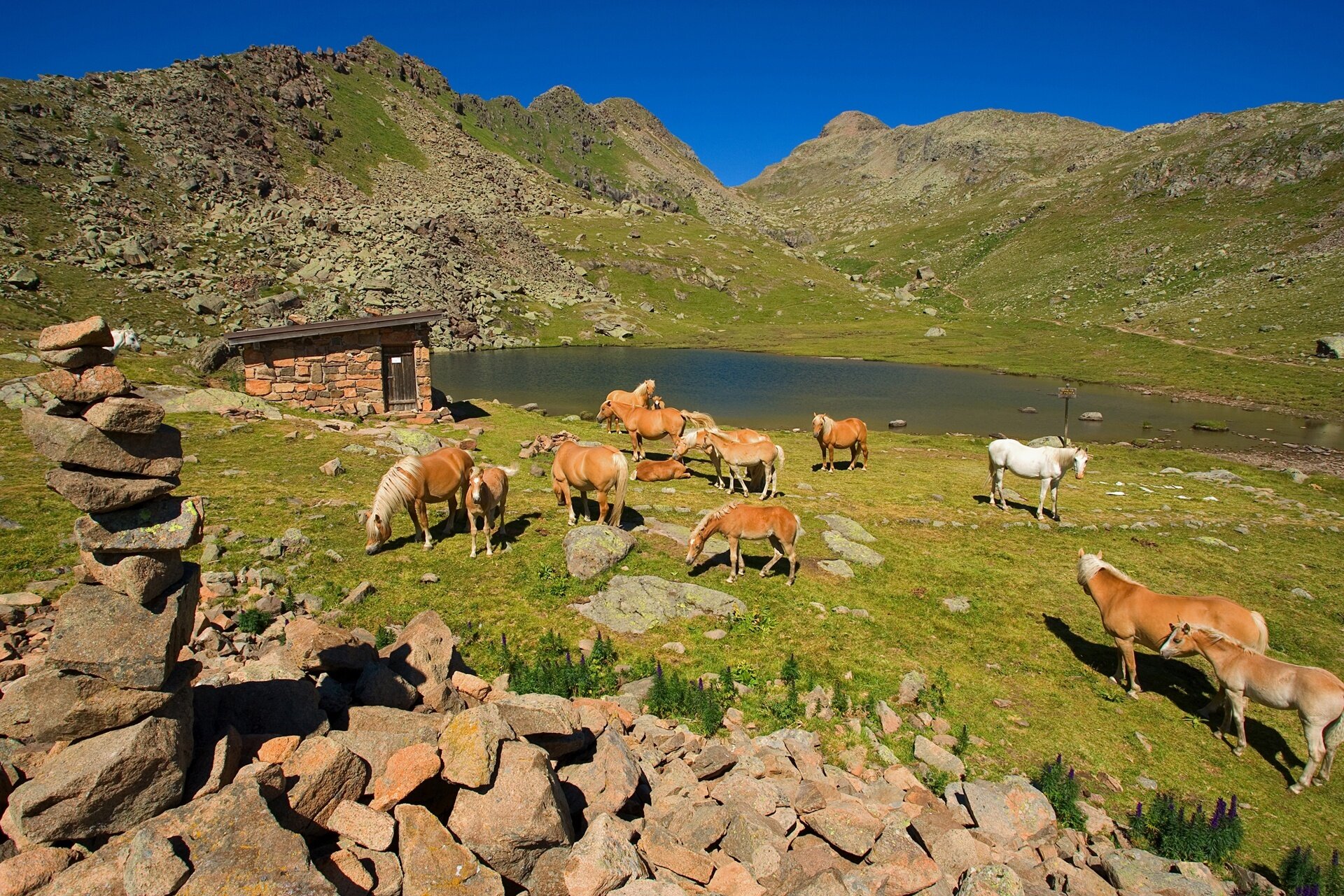 Very nice loop path to explore the wildest nature in Alpe Luisa and its wonderful lakes. Starting from Moena reach the "Lusia" cabin lift departure at "Ronchi". Take the lift (first and second stretch) to reach the top station called "Le Cune" (2,200 m). Here enjoy the magnificent view over

...
Catinaccio, Latemar, Monzoni, Pale di San Martino and Lagorai. From "Le Cune", skirting the ski slope, walk path no. 614 down to Lusia Pass ("Pas de Lujia") and reach the namesake refuge. Here take path no. 633 leading to the Paneveggio-Pale di San Martino Natural Park, then walk along an easy track running along the ski slope "Lasté" to reach the top station of the chair lift (closed in summer). Turn right and get to the "Baic del Lasté" ("Lasté" huts, 2,339 m). The huts are always open and do provide shelter in case of bad weather. Follow the military mule track, still cobbled in some stretches, ascend the southern porphyritic face of "Cima Lasté" and reach "La Trincea" (the foxhole) at 2,428 m. Here the ruins of the First World War defensive walls are still visible. The military placement overlooks the lonely hollow of the Lusia Lakes, right below the porphyritic "Grònton" ridge. The paths goes down to the first of the two Lusia Lakes, natural biotopes. The Sandro Redolf bivouac is located near the lake, at an altitude of 2,333 m. Take path no. 633 ascending to "Bocche" peak ("Cima Bocche"; 2,745 m). Reach the awesome second lake walking for 20 minutes across the high altitude pastures along the stream "Rif de Lujia". Keep on walking for 20 minutes and reach "Bocche" Saddle ("Sforcela de Boce"). Look towards San Pellegrino and enjoy the breathtaking view of "Valacia", "Costabella" and "Cima Uomo" peaks. You can come back along the same path, and once you get to Lusia Pass ("Pas de Lujia") you can proceed along path no. 632 to "Valbona" cabin lift (intermediate station). You can also chose an alternative track and reach the "Valbona" cabin lift station ascending from the Sandro Redolf bivouac to "Lusia" Saddle ("Sforcela Lujia"; 2,363 m; starting point of the "Grònton" equipped path). Follow path no. 634 until the intersection with a forest road. Turn left and follow the indication of path no. 625 to "Malga Colvere", La Rezila Refuge and "Valbona" cabin lift. Once you get to "La Rezila", you can keep walking on the forest road leading to the starting point at "Ronchi".

Author's advice: Transport with lifts:please check opening dates and times. The refuges La Rezila and Lusia Pass are the only refreshment points along the route.
Read all