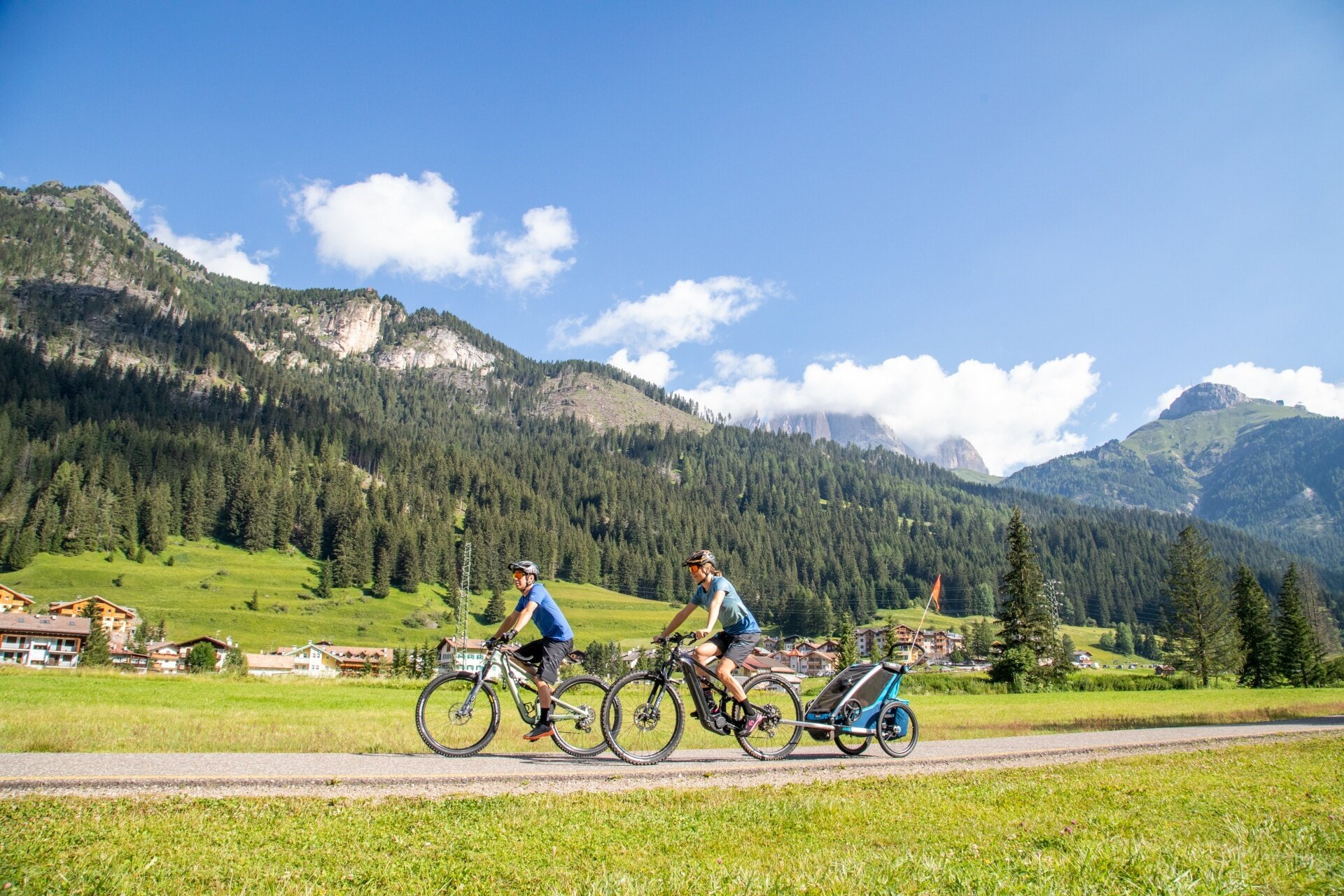 The ideal itinerary for those who love long bike rides: sloping ground, downhill, and some rare uphill stretches. Dolomites' cycling route connects Val di Fassa with the neighbouring Val di Fiemme, in a scenic 47,5 km-long route.

From Canazei, near the sports centre and the playground, ...
take the forest dirt road "Cercenà". Pedal along the easy and shady track towards "Soreghès" plain and Col Rodella cable car's station in Campitello. Go on skirting Avisio stream. Flat stretches alternate with short climbs, until you reach the villages of Fontanazzo, Campestrin, and Mazzin. The descent to Pera begins here, with easy ups and downs up to "Fraine". Once left the votive chapel on your left, cross the wooden bridge on your right and proceed on paved road. At the bus stop in "Vac" area (Piaza de Fascia), follow the main road; pass the roundabout in the town centre of Pozza and, in front of Hotel Monzoni, filter back into the cycling route. Go past Camping Rosengarten and continue up to the bridge. Cross it and descend towards the lower part of Val di Fassa. Once again, the track runs along Avisio stream, among fields and woods, but it gives space to magnificent glimpses on the peaks of Latemar and Rosengarten. Cycle carefully along the municipal road that serves the industrial area of Soraga and you'll reach the playground and the town centre in a few minutes. Take the underpass to cross the street safely and take the uphill stretch that leads to "Palua". Looking back, your gaze falls upon Val di Fassa in all its beauty, framed by the high rocky "crode" (falls) of Rosengarten (Catinaccio), Sassolungo, Pordoi, and Monzoni. Continue the descent to Moena. The cycling route finishes near the Alpine Training Centre. It is necessary to cross the whole village (along the main road or "Prato di Sorte") to reach Moena's plain: in the winter, this is the start of the legendary Marcialonga. Here, filter back into the cycling and walking route, which goes on to Predazzo and Val di Fiemme.
Author's advice: Prudence and caution is advised within built-up areas, where municipal roads open to traffic are used; it is recommended to follow the signs posted at intersections in order to return to the cycle path when leaving villages.
The section from Canazei to Fontanazzo (Mazzin) is an unpaved track and is recommended only for mountain bikes.
From May to Octoberthere is a shuttle service which brings you back from Molina to Canazei (Fassa & Fiemme Bike Express).
There are fountains, picnic areas and playgrounds for children along the whole path.
Read all
Associated with this itinerary