Having fun in the mountains and on the snow, without taking risks: this should be the motto of every prudent skier and snowboarder.
Winter sports such as snowboarding, downhill skiing and cross-country skiing provide a profound tie with the mountains and the nature that surround us, but descents on snow-covered slopes unfortunately hide some dangers. One is rarely alone on the slopes. It is fundamental to behave with great responsibility towards oneself and towards others in order prevent accidents.
The first aid and the alpine rescue service on the slopes are guaranteed by Carabinieri, Police, Financial Police and Foresty Police. Emergency care and health care service are of the highest standard: plenty of pharmacies, medical surgeries and first aid stations are available in Val di Fassa. If there were risk of avalanches the slopes could be closed.
If you need a quick review, here are the main rules to follow on the slope.
Respect for others
Skiers or snowboarders must behave in such a way that they don't endanger others. Always keep a speed appropriate to your technical abilities, respect distances and choose suitable trajectories away from possible obstacles.

Don't drink alcohol before skiing
Remember that it is forbidden to ski while intoxicated as a result of the use of alcoholic beverages (the limits laid down in the Highway Code will be applied, i.e. 0.5 mg of alcohol per litre of blood) or under the influence of drugs. The competent authorities (police, carabinieri, financial police, local police) can carry out checks on the slopes.

Compulsory insurance
Since January 2022, in order to access the ski slopes, it is compulsory to have a valid insurance covering civil liability for damages or injuries caused to third parties. This means that you will have to carry a copy of the policy with you at all times during your sporting activity, either in paper or digital form. People without insurance will be sanctioned with a fine of 100 to 150 €, in addition to having their ski pass confiscated. In case of an accident, report the incident immediately to the single emergency number 112 or to the rescue personnel on the slope.
Spending a day on the snow in total safety is by no means a given: accidents can always happen, which is why it is better to arrive on the slopes prepared. If you don't already have insurance cover, consider purchasing liability insurance such as ITASnow.
Click here and find out more
Helmet mandatory
Everyone should wear an approved protective helmet to reduce the consequences of head traumas. This safety measure is mandatory for children and juniors under 18 years practicing alpine skiing, freestyle, freeride, snowboarding, telemarking, toboggan or sledge. The helmet must meet the approval of European norm UNI EN 1077 and bear the CE certificated mark.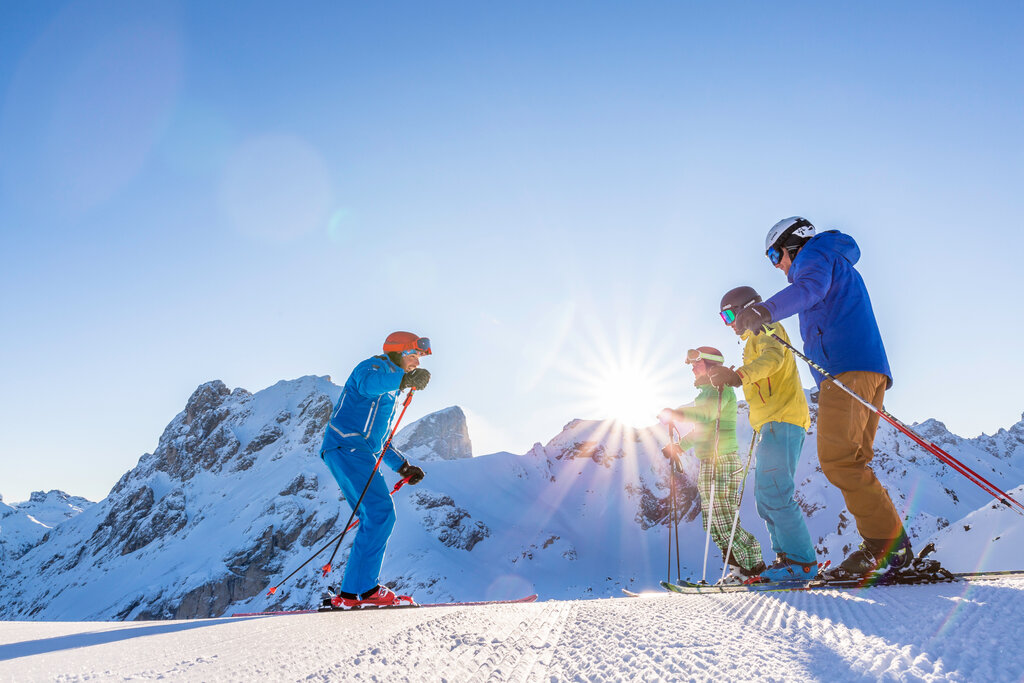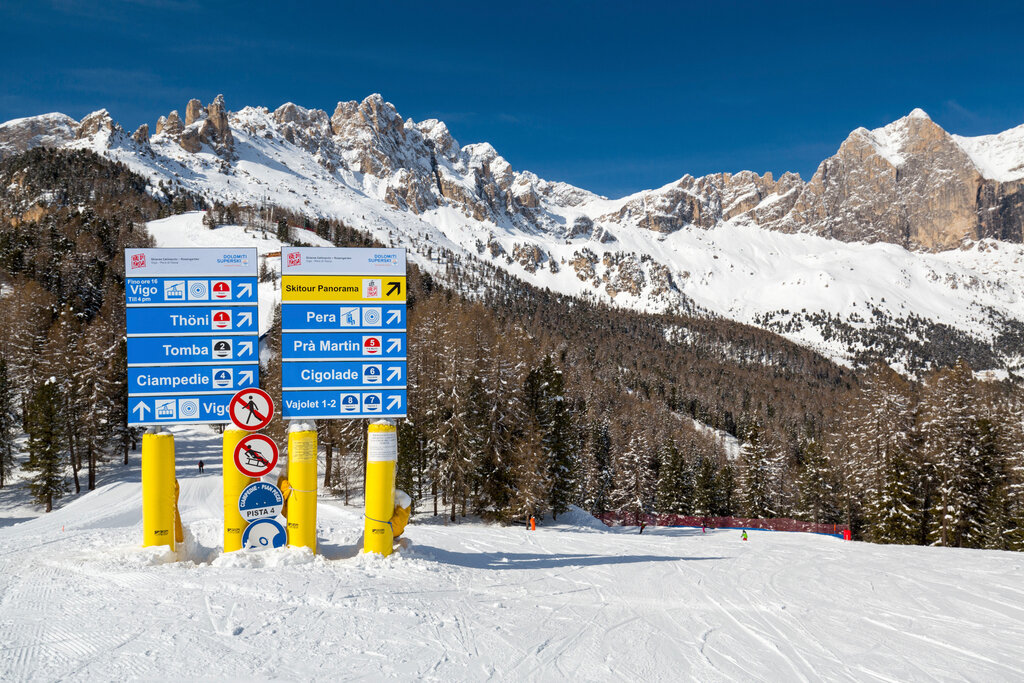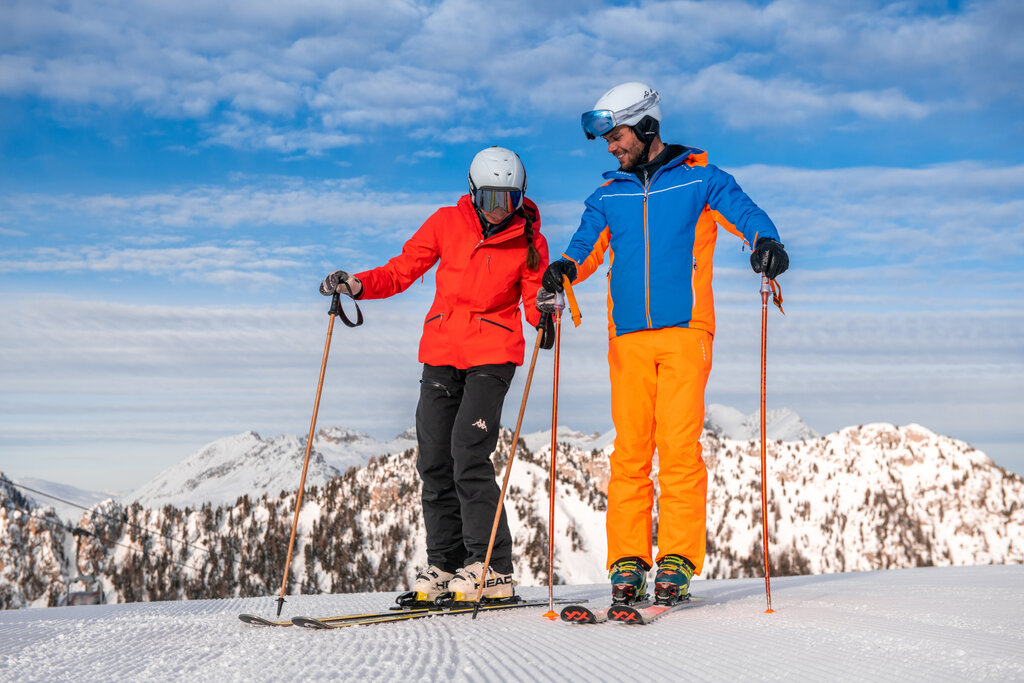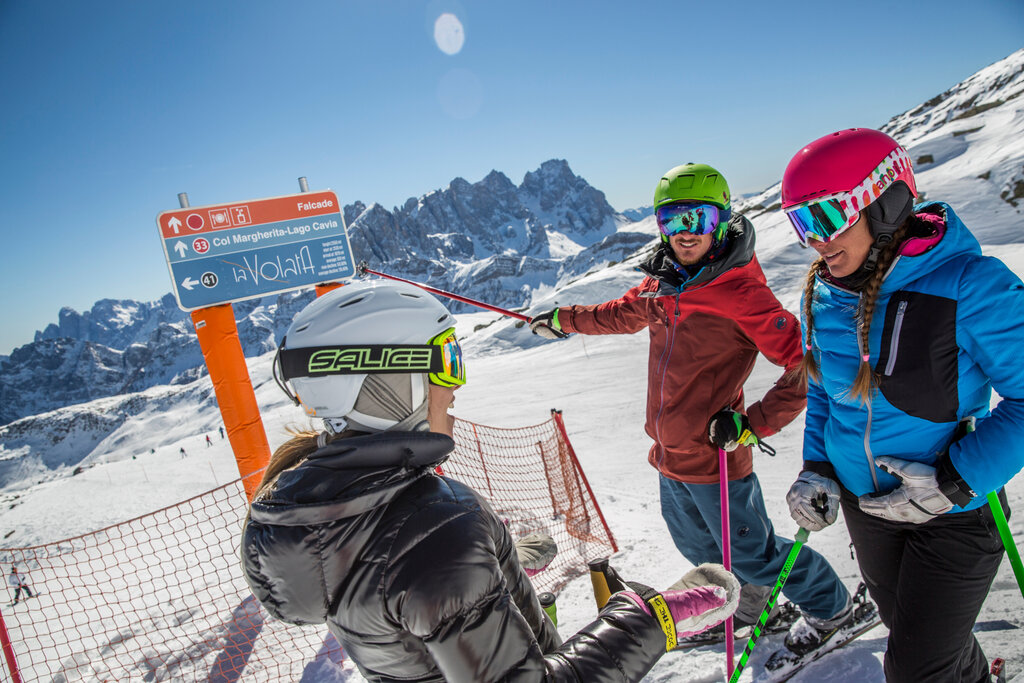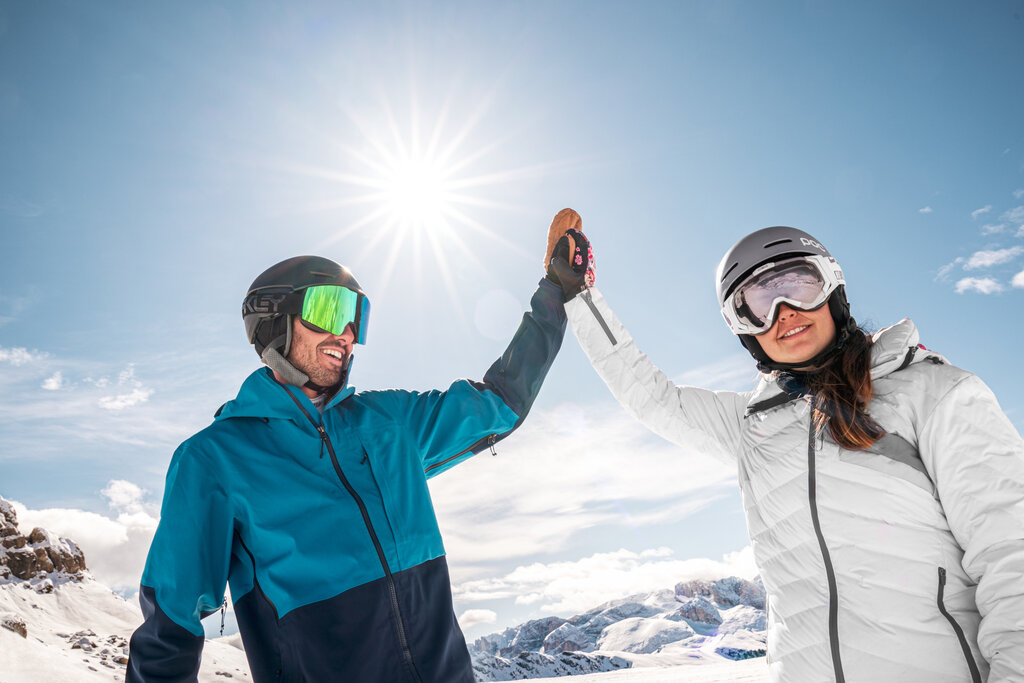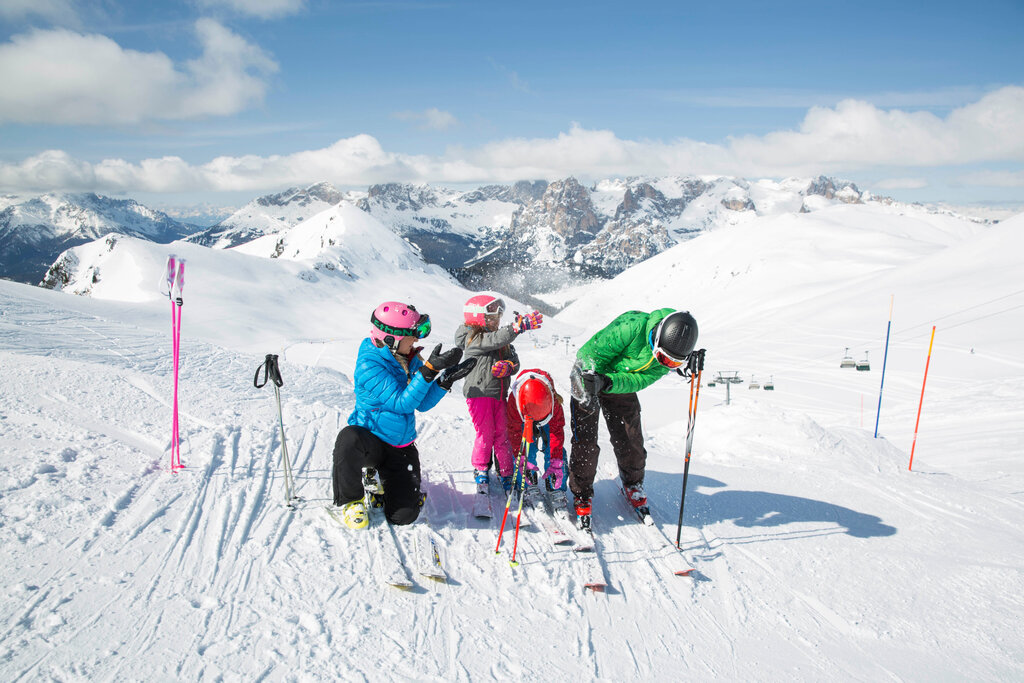 Speed control and conduct
Remember: the skier or snowboarder in front has priority. Adapt your speed in sections with limited vision and crowded slopes, near obstacles, junctions and forks, in fog or poor visibility, at bottlenecks, and in the presence of beginners, children and disabled people. Maintain a direction that allows you to avoid collisions or that does not interfere with the skier downhill. When entering or crossing a slope, make sure that you can do so without danger to yourself or others by checking well upstream and downstream. Observe and respect the signs and markings for danger, slowing down, narrow passage, closure. The degree of difficulty of a slope is indicated in black, red, blue or green.

Overtaking
Before overtaking another skier, make sure you have enough space and visibility. You can overtake another skier or snowboarder to the right or to the left giving enough space for the person you overtake, even if he stopped on the track.

Stopping on the slopes
Unless it is absolutely necessary, skiers and snowboarders should avoid stopping along narrow parts of the piste or where visibility is restricted, especially in blind spots. After falling down, you should move clear of the piste as soon as possible. Experience proves that joining a piste or starting again after stopping are the sources of accidents. Always pay close attention to those coming from above.

Climbing and descending on foot
It is forbidden to go down the ski slopes on foot (any deep footprints are very dangerous!) and also to go back up the slopes with skis on your feet; where it is not forbidden, ascending on skis must be done only on the side of the slope; it is forbidden to circulate on the ski slopes outside the opening hours to the public. Skibobs/snowbikes are not allowed on any of the pistes in Val di Fassa and Trentino.

Assistance
At accidents, every skier or snowboarder is duty bound to assist. Immediately alert the appropriate authorities, by calling the emergency number 112, and mark the place of the accident to warn other skiers and snowboarders.

Identification
If you are involved in or witness of an accident, you are required to exchange name, address and personal details.

Obligation to use a safety device to prevent equipment detachment
Please remember to use only skis and snowboards that are equipped with safety devices to prevent equipment detachment from endangering people on the slope. Our rentals only provide equipment that is in order.

Obligation to store equipment
When you stop for a break in a hut or other premises, you must place your equipment outside the ski area so that you do not obstruct or endanger other people. In particularly crowded places, it is advisable to equip yourself with a padlock.